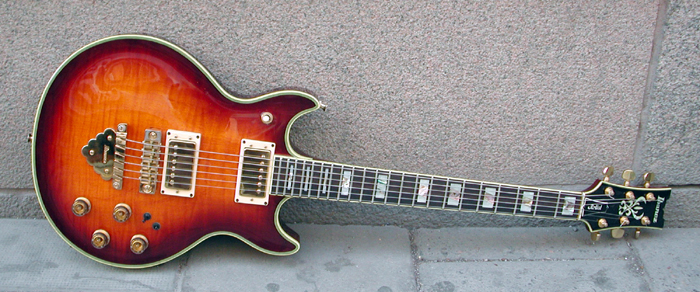 One of my earlist memories of this guitar was writing away to FCN distribution and getting the Ibanez Guitars catalog sometime in late 1983. The Ibanez Artist was the companies alternative to the Gibson Les Paul. Although it never had the Landmark status of the Yamaha SG2000, it was one of the first high quality Japanese electric guitars that showed good quality instruments of original design could come from somewhere other than the USA.
Essentially a twin cutaway Les Paul, the Artist always seemed an elegant and pretty guitar. Probably one of the best designs ever IMHO. It's rumoured that Mick Ralphs of Bad Company was offered an Ibanez LP replica as a signature guitar and he suggested the cutaway design, although that remains an urban myth.
Since Ibanez's glory days of 1988-1991 when they seemingly ruled the roost in desireability stakes thanks to the RG series and Jem guitars becoming the "ROCK" Axe of choice for an entire generation of lead players. Post Kurt Cobain and Post Britpop, The RG has just about survived and has been reborn in various "nu metal" guises, usually played and endorsed by people who would struggle to play a Van Halen solo and instead detune to the point of prolapse (bless em).
Meanwhile no longer the hottest guitar company on Planet Rock, Ibanez have had to descale the amount of Japanese made guitars in their range, such is the value of the Yen that there affordable RG's, semi's and other designs are made in either Korea, Taiwan and now ironically China.
It is here where the latest versions of the Ibanez Artist are made and quite frankly they are ugly son's of bitches.
However whats more shocking is their attempt to copy Yamaha's AES range of singlecuts, as seen below.
Now I think its one thing to be influenced by the Gibson Les Paul, but copying your competitors midrange Les Paul inspired singlecut electric is quite another thing.
These Chinese made Artists have been gaining good reviews in the guitar press and for around £300.00 seem a good to go bargain for someone wanting set neck, humbucker loaded tones without alerting their spouse or parents to having spent £1500 on such a prospect.
However there are a few "original" Classic shape Korean made Ibanez Artists out there in dealerland. Expect to pay £400 ish, or better still hunt down an original Japanese Classic on Ebay. There are sites such as  Ibanez Vintage with a focus on the 70′s guitars, but check out the Ibanez Collectors Forums if you want to know more about these beautiful guitars.