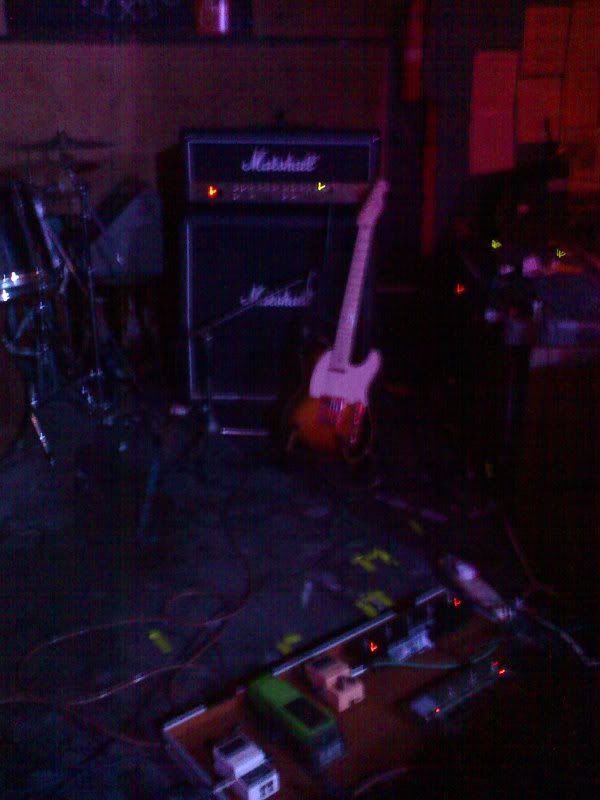 My apologies for not posting recently, however I have been busy gigging around the UK this month. Normally I would gig about once a month rather than 5 times. I've enjoyed the experience nonetheless & if anything it has improved both my playing and that of the band. Generally the gigs have gone well, the highlights and lowlights include:
Watching the drummer and bassist  perform an "audit" of the quantities of booze (mainly cheap Polish Lager) in the tour van.
Seeing the huge amount of kids walking around with big scary dogs in Brixton
Playing an entire gig without being able to hear the echo going through the FX loop.
Playing an entire set where the singers guitar rig was either inaudible or the loudest thing on stage.
This increased schedule has forced me to upgrade some basic peices of my rig.
First off is the pedalboard: In recent years this has been a sheet of plywood covered in gaffa tape, with the pedals bonded down with cable ties. However my pedals have been taking somewhat of a battering in recent times, so I was on the lookout for a decent flightcase style board with room for expansion, as I'm planning an extra delay unit as well as a Digitech Whammy & possibly a decent universal power supply when funds allow.
After some digging around I came across the rather excellent RockCase series by Warwick. This beast cost about £60 via mail order and although I had to suffer DHL loosing it for over a week, the unit itself is fabulously made and the supplied velcro pads hold the pedals down nicely.
Second up was cables, I bought a new set for the guitar to amp etc as well as patch leads, plus a speaker cable, all from Planet Waves. These feature secure 8 compression springs on the jack to allow a firm bond to the socket for a super firm fit and the audio quality seems to have improved no end.
Lastly I decided to upgrade my Distortion device. I have been using a Boss SD-1 for about the last 6 years and used it to boost the crunch channel of the Marshall TSL60.
While it works well in a Classic Rock kinda way,I was still struggling to get a nice lift above the rest of the band during solo's, so I decided to use it through the cean channel. I got the jump in volume but needed something with a more full bodied gain and bite. After several unsuccsessful attempts to buy an old mark 1 Marshall Guv'nor, I popped into Fould's in Derby and had a peruse at their pedal selection. Their Guitar manager Dan did me a deal on a Pro Co RAT 2. These evergreen classics are used by such artists as varied as Graham Coxon and Dave Gilmour and I must say its improved my soloing tone.