We guitarists are weird creatures, some of us are all gadgets an gizmo's, with racks like the Starship Enterprise and pedalboards and multi fx units all blinking lights (The Edge for example), others are the opposite Beaten up old guitar into beaten up old amp via curly lead (Bernie Marsden/BB King et al).
Now Im not knocking either approach as to me both are valid ways to go if the end result is excellent. But Ive been thinking recently about the idea of choice and choices in the modern world. I guess this started with me looking to upgrade my Digital SLR camera amnd realising there were only 2 or 3 serious choices at best Nikon, Canon, used or new etc.
We guitarists are very lucky though, there are literally hundereds of gear options available from a plethora of manafacturers and quite frankly in this age of cheap foreign labour and CNC manafacturing (nearly) all of these options are affordable to the average player.
However at a social event the other week I was introduced to another guitarist and of course (as usual) the talk turned to our guitars, gear, our own experiences and stuff we liked or disliked. Then this chap threw a great question in the mix….. to name my dream amplifier in an ideal world.
Now this got me thinking, as a long time Marshall user (JCM2000/JCM800/Jubilee & Artiste combos, plus my brief sojurn with a JMP-1 rack based system) I realised that what I'd really want isnt actually made by Marshall, well not in the form I'd want it.
I find this strange as Marshall have launched loads of products in the last 3 years and currently their offering is bigger than its ever been. But my ideal amp is strangely not there.
So here goes from Fantasy amp land the Marshall Jez Sullivan JS50+ 2 x 12 combo.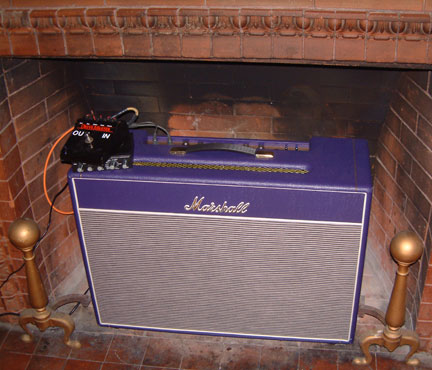 The specs are all stuff Marshall currently make, so if anyone from Marshall is reading this I suggest you knock one up now.
Cabinet: Bluesbreaker style birch ply cab (this has a bigger physical Mass than Marshalls current 2 x 12 cab and so will deliver a lot more low end, so a 4 x 12 cab player like me will find it less of a compromise and also with the open back, will get a bigger spread onstage at a smaller gig.)
Chassis: Essentially a DSL 50 50 watt 2 x 12 EL34 based amp, but with a couple of tweeks to my taste…..such as
1: Switchable gain stage on the dirty channel like the DSL401 combo
2: A Parrallel FX loop, serial loops are rubbish and offer less tonal control over the effected signal. Why people even try to use them is absolutely beyond me
3: 1 Clelestion Vintage 30 Speaker and 1 Celestion G75 (for a great combination of vintage and modern tones)
4: A seperate midrange switch on the extra gain stage as this will likely be the only EQ stage choice you need between channels
I'd retail these for around £1000GBP and you know what…..
I think they'd sell…. and not just to me….fucking loads.
The idea of having a vintage style Marshall that looks not only classic, but with more features and juice under the hood would be an absolute winner, think about it. All guitarists (guys in Function/Covers bands who need versatility in a smaller format. Guys on the toilet circuit who want the tone to come from the amp rather than additional pedals. Indie Schmindie guys who want the reliability and tone, but don't want the "Metal " image….etc etc. Baby Boomer guitarists who can spend a grand or two on a Mesa Boogie and go on about the good old days with their JTM 45 and how they once had a fight with Clapton down the Dog & Duck in Peckham in 1967 or whatever). Hell I even thought of a name for it
The "Hot-Breaker", Son of Bluesbreaker, all the heritage, all the tone, all the Marshall….
Now I really really dont understand why Marshall dont make something like this as it would be a great competitor to all the boutique combos out there, but then I had a quick scan of the marshall range and really what there doing now is reacting to trends rather than setting them.
Take the last few big Marshall amps to have come out
Vintage Modern – Single channel front end with gain stage you can back off (Not unlike a Cornford Richie Kotzen me thinks)
JVM410 – 4 channel, Hi gain multi modes, midi switching (Did anyone say er Diezel VH4….er….. cough)
Class 5 Combo – Its one thing to have your employees leave and start their own company (Blackstar), but really making a competitor to their best selling amp the Blackstar HT-5 just reeks of pettyness.
Thing is to me Marshall should really not worry about the competition and just build amps that people want. Its a tough market now and with the likes of Bogner deciding to go mass Market with their chinese made Alchemist series. Perhaps the boys and girls of Bletchley should start to once again set some trends rather than following them.