As Im not in a band at the mo, Ive been thinking about guitars and amps in a more frivilous way, Ive also been thinking about the guitars Ive always liked but never owned (and believe me thats quite a lot)
The PRS CE 24 was one of those guitars that by rights given my playing style & influences I ought to own. I had a quick look on the PRS website tonight….only to find out they have been discontinued for 2010……….Discontinued…..gone…….
But I remember them so well…
They came out in 1988 as the affordable PRS guitar. The first PRS with a bolt on neck, originally they were called the Classic Electric, but Peavey threatened to sue over the name (ironic really as Peavey have never made a classic design in their history). They had alder bodies to give them a more strat esq tone. The market was confused at first, so gradually they offered black faced headstocks so they looked more PRS, then maple tops, bird inlays etc and the guitar became established in the PRS line. The body was changed to Mahogany in 1995, although at one point I believe both wood choices were available. A 22 fret model became available from 1994.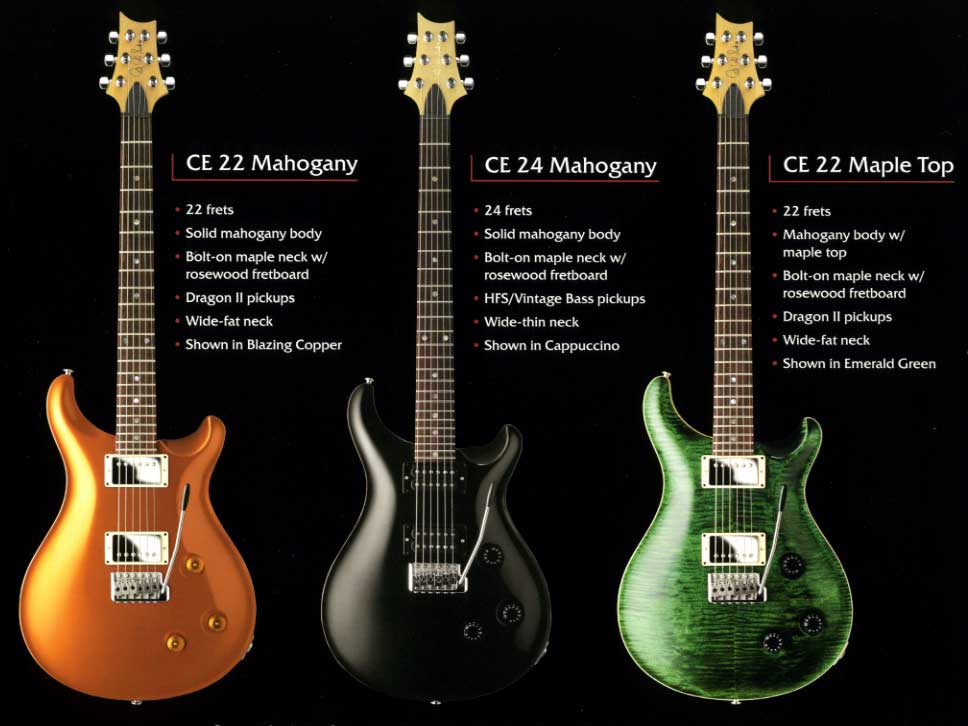 The most famous user of the CE24 is probably Alex Lifeson of Rush who toured with a mixture of PRS models from the early 90′s through til 2004. Brian Forsyth from 90′s rockers Kix was also an endorser
But lots of other working players, gigging guys, people in cover bands alike and pro's used them, they were the workingman's PRS. The entry into the US made line….the PRS I could afford.
I guess I always liked the shape of PRS guitars since I saw Gary Moore use an early one on the "Wild Frontier" tour in 1987. When I eventually played a Custom 24 a few years later I thought the body was too thin and insubstantial.
But in 1991 there was a Classic Electric in metalflake red sitting in the window of Chas Foulds and son, it sat there for years. I tried it twice and liked it, but the price at the time was simply too high…..so the guitar sat there for another two years. A guy who lived in the street behind me bought it, I went to see his band…..he was running a top flight guitar into a nasty Yamaha multi FX unit (one of those infamous "Car Stereo" sized ones popular at the time) then into an old Burman Valve combo….it truly sounded awful.
So I forgot about the PRS CE until 1999 when I was offered one by a mate of a mate….of a mate…..in a dodgy pub….it was £400 and had been lent to a local punk band who'd duly beaten the shit out of it. Had it been a good colour I'd have said yes, but it was a green maple top one with an ornate flame…..I didnt know the guy selling it very well, assumed at that price it may have been hot and duly declined.
But then in 2005 PRS released the 20th Anniversary models and the did some mahogany bodied guitars with hot rod dupont style paintjobs. The CE24 in Blazing copper looked gorgeous
But at the time I was in telecaster heaven recording the Heroes' debut album and had neither the funds or need for such a guitar.
Then a year later my nephew asks me to go with him to buy a Gibson Explorer and we walk out of the shop with a CE22 in Cherry Red. I spent some time with it and liked it.
But even now to players of perhaps my age PRS have that "Bank manager" guitar vibe about them. Something too pristine and not very rock n roll. PRS clearly get this too and have introduced the Mira in recent years, essentially a stripped down mahogany bodied guitar simillar to a Gibson SG. As the hedge fund managers dissapear and the baby boomers start to die off I guess PRS have to make something for the alternative nation. The Mira is nice enough and ironically I was offered one when I bought my SG last year, but again it was the wrong colour.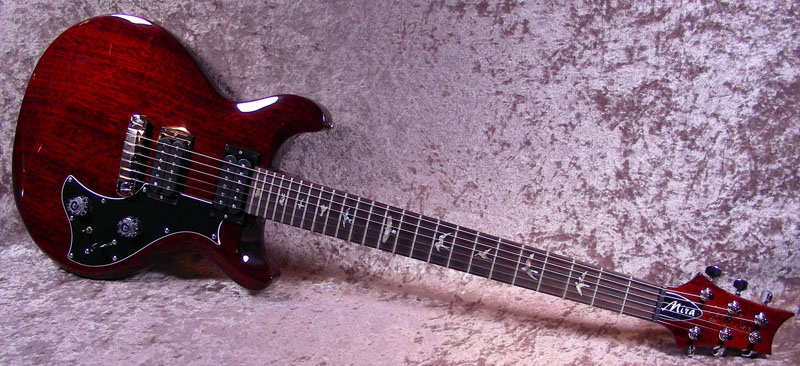 For now that remains the cheapest entry into owning a American made PRS, especially the new X' version which substitutes basswood for mahogany (I know ridiculous….Basswood was good for 80′s Floyd type superstrats cos it was cheap light and easy to apply flashy paintjobs too, why oh why PRS are using it is a joke).
The CE appears to be destined for collectability, unless of course PRS start up production again, but to me there a guitar that made PRS a more affordable choice for the everyman player and they also managed to combine Fender like Clarity with a Gibson like fatness. For that they are an important model and if I ever find the right guitar in the right colour…..who knows I might get the wallet out. The Gumtree hunt starts here.