With the recession firmly biting in the United Kingdom. The used market for guitar equipment has taken quite a pounding. If you've had a spare grand lying around recently, you've had your pic of some sweet secondhand private sale deals.
As commodities and fuel prices have risen. The price of new guitars however has leapt up to a point where I cannot see how some dealers will be able to continue.
A good example of this is Fenders new Mexican made Roadworn player series priced with an RRP of around a grand new (although most big dealers sell em for just shy of £800), but when a mid range instrument is selling for nearly £1K, you know the worlds in trouble.
Meanwhile as redundancy and casualisation looms and people try to control their household budgets, a plethora of high dollar guitars are hitting the used market at very very reasonable prices. So the near grand you'd spank on a brand new Mexican…ahem… "relic"… Fender would buy you a lot more used guitar for your money… Im talking American Deluxe Stratocasters, Yamaha SG1000′s, Gibson Les Paul Classics, PRS Standard 24′s etc etc. If you spend another £150 or so then your talking PRS McCartys ( A boxfresh Mk2 McCarty Std went for £1100 on Ebay recently) and even the odd Les Paul Standard as well.
Its a buyers market for sure. However thats not good. Most of us will want to upgrade and make changes to our equipment from time to time. So the idea that everything we own is devalued considerably is not great, especially if you have a larger collection of instruments.
A good alternative however is the Swap Meet. Lots of musicians are now advertising their equipment with not only a price, but the line "Will exchange for XXXXXXXXXXX" sometimes advertisers are even asking " Will exchange for WHY – What Have You" as a way of seeing how far their unwanted item will take them.
I recently tried out this process. When I went to see Rush recently at Birmingham NEC. My brother started telling me he wanted to offload his rarely played Gibson Les Paul Standard and buy a PRS McCarty, he was thinking of swapping guitars rather than selling one and buying the other.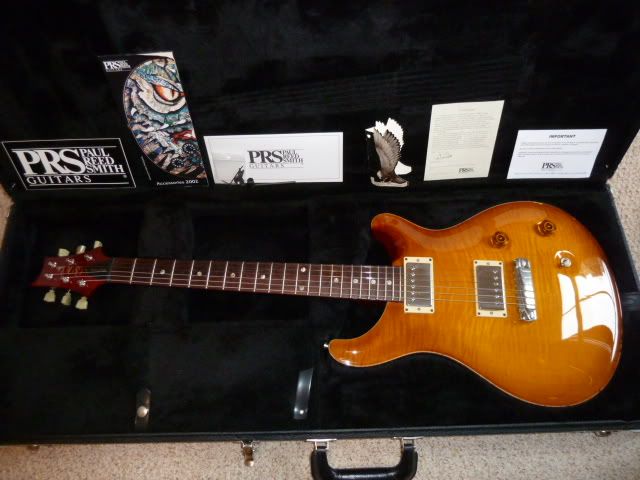 As I had bought a very nice used PRS McCarty some 4 months ago, I guess I was number one for his first refusal. As much as I liked my PRS, I was missing a Les Paul since I sold my LP Classic 1960 in 2007. Id bought the McCarty on a whim thinking it was a bargain, and much as I liked it. I was missing owning something with more low end prescence and grunt.
The following week we spent a day at his house trying out both guitars and seeing how we felt. My brother has a dislike for neck binding which means his Gibson Les Paul Studio is played far more than his Standard.
From my point of view, I knew the complete History of his LP Standard, my brother had bought it from new in 2001 it was the best of 4 we had tried that week and I knew he had played it minimally compared to his main guitars (a hideous flip flop teal LP Studio and his 62 Jap Strat-another guitar I'd once owned), so condition wise it was much cleaner than my already gigged and slightly dinged PRS McCarty. However my brother had fallen in love with the PRS' playability and construction. He wanted it, more so than I to be honest.
For me the decision was harder. I loved both guitars, while I thought perhaps the Gibson had the edge on tone for hard rock, the PRS was far more articulate on cleaner tones and the coil taps actually worked. Something dawned on me…
As Gibsons Quality Control has always, and will always be….patchy (Charles Sharr Murrays recent column in Guitarist mag about his mates Gibson J 200′s faulty pickup system and Gibsons incompetent aftercare seems to bear this out). I suspect it'll take me a while to find another Les Paul this well made. Meanwhile as PRS have the consistency of build other makers would kill for. I know that at some point I could always buy another used McCarty and not spend decades looking for one that was put together properly.
So as both instruments were of similar value we just swapped guitars. We put in a gentlemans agreement of 28 days that if one of us wanted to cancel the deal, they could do so without question. But in the end 1 month on both of us are happy.
So far this experience has been a positive one and Im wondering if I'll be looking to swap rather than sell stuff in the future. I would suggest sometimes these things can be difficult. Most of us have fallen in love with an instrument only to fall out of love sometime later. Plus theres always fakes and charlatans around every corner of both Ebay and the classified ads.
However if you stick to relatives or just your Muso mates or their mates, this is probably a foolproof way of getting new kit without all the stresses of dealing with haggling and accurate descriptions.
I'd reccomend it.